Silence of the Tides
Director Pieter-Rim de Kroon
SILENCE OF THE TIDES is een poëtische auteursfilm zonder voice over of interviews waarin de continue 'ademhaling' van het Waddengebied centraal staat. Een film over getijden, steeds terugkerende cycli en contrasten. Over de relatie tussen mens en natuur, tegen een decor, van mist, wind, water en land, het constant veranderend licht en altijd aanwezige horizon.
Director: Pieter-Rim de Kroon
Length: 102′
Country: The Netherlands, in co-production with Germany and Denmark
Openingsfilm WFF Rotterdam 26 oktober 2021
Release: 9 december 2021
Silence of the Tides is geselecteerd voor
– Nederlandse competitie IDFA 2020
– IDFA Extended 2020
– IDFA programma Earcatch & Subcatch
– competitie Natourale filmfestival Wiesbaden
AWARDS
Amsterdam IDFA 18 nov-6 dec 2020 Special Jury Mention
Wiesbaden Natourale 1-4 dec 2020 Winner Natourale 2020
Thessaloniki IFF 24 juni – 4 juli 2021 Winnaar WWF Greece Award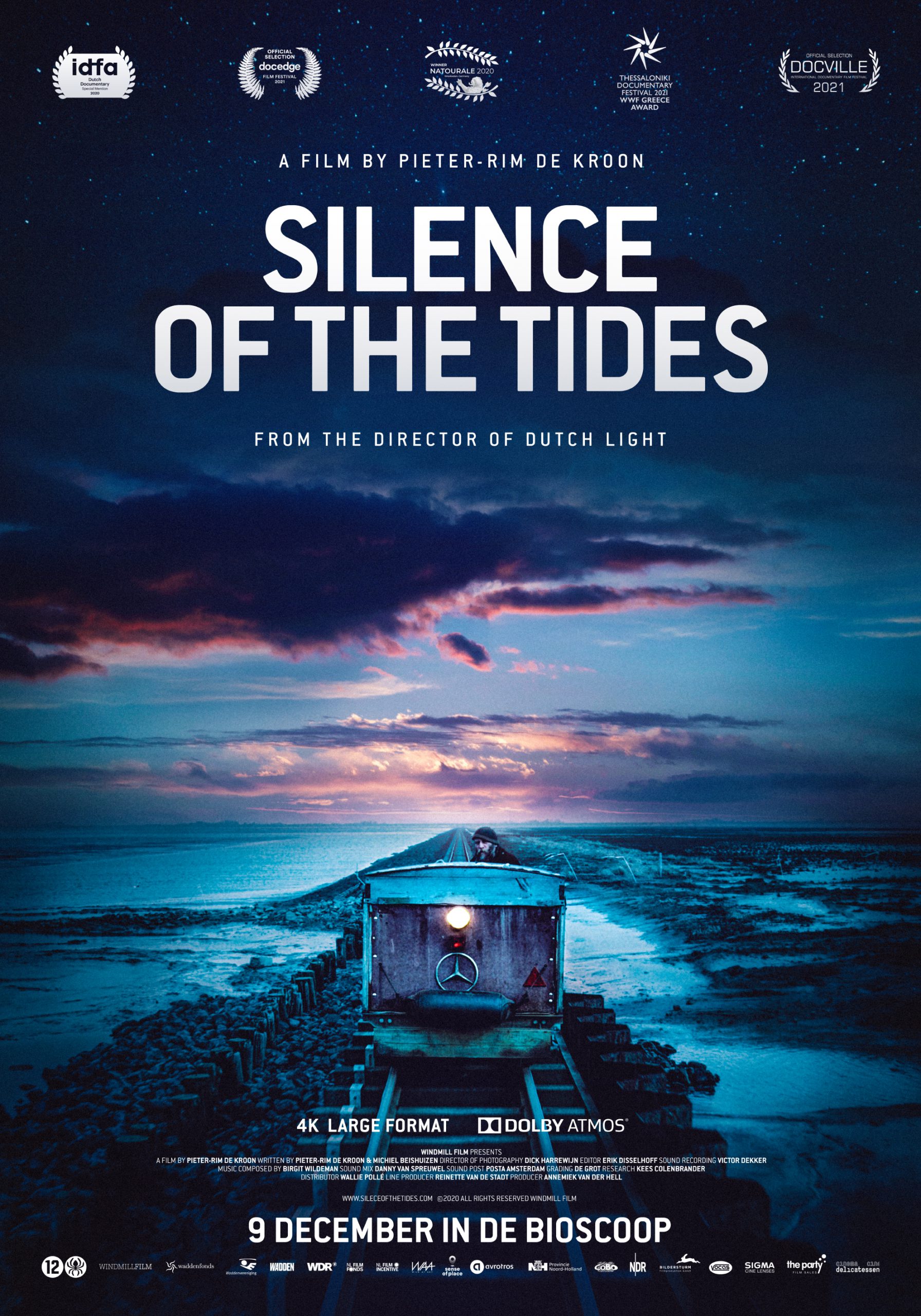 Festivals:
Guangzhou Int Documentary Film Festival 6-9 dec
Rotterdam Wildlife FilmFestival 26-30 okt
Openingsfilm en genomineerd voor Best Film en People&Nature
Bergen Noorwegen Bergen Int Film Festival 20-28 okt
Caïro El Gouna 14-23 okt
El Gouna Egypte El Gouna Int Film Festival 14-22 okt
Guadalajara Mexico Guadalajara Int Film Festival 1-9 okt
Warschau Milenium Docs and Against Gravity 3 sept-3 okt
Seoul Korea Int. Intangible Heritage Film Festival 10-12 sept
Tel Aviv Doc Aviv 1-7 juli
Thessaloniki IFF 24 juni – 4 juli
Winnaar WWF Greece Award
Leuven DOCVILLE 9-19 juni
Official Selection DocVille 2021
Nieuw Zeeland DocEdge 3 juni-11 juli
genomineerd voor
Best International Feature,
Best International Director.
Tel Aviv Doc Aviv 1-7 juli
München DOK München 5-16 mei
Kopenhagen CPH:DOX 21 april-2 mei
Oslo Dockumentarkino 1-7 maart
Tallinn DocPoint Talinn 2-7 feb