Silence of the Tides
Director Pieter-Rim de Kroon
'Silence of the Tides' is a poetic storytelling film in which the continuous 'breathing cycle' of the Wad is central – the tides, repeating cycles and contrasts, movement, the constant metamorphosis, the earsplitting silence, raging storms and the almost tangible presence of constantly changing light and the continuous horizon. It will be a film that gives shape to the uniqueness of the Wad in its own way. Against a backdrop of light, mist, wind, water and land, it's an area that seems to lie anchored and the continuous tensions and contrasts become visible, almost tangible. The film evokes the question whether the Wad is a part of water or of the land. And above all, Silence of the Tides is a strong observational film about the relationship between man and nature.
Regie: Pieter-Rim de Kroon
Lengte: 92 min.
Land: Nederland, in coproductie met Duitsland en Denemarken
Release: 2021
Silence of the Tides is selected for competition at the IDFA 2020 International Documentary Festival in Amsterdam.
The film will be screened for the first time in a Dolby Atmos theatre on november 22nd in Amsterdam
The film is also selected for the IDFA Extended program and will be screened in a series of theatres in the Netherlands during the IDFA festival.
Silence of the Tides is selected for the NATOURALE NATURE FESTIVAL, Wiesbaden, Germany.
AWARDS
Special Jury Mention IDFA 2020
Geselecteerd voor IDFA Extended 2020
Best Feature film Natourale Film Festival Wiesbaden 2020
WWF Award Thessaloniki Film Festival Greece 2021
Nominatie beste lange documentaire Nederlands Film Festival 2021
Nominatie beste sound design Nederlands Film Festival 2021
Grand Prix Wildlife Film Festival 2021
Award for special contribution to Northern Cinema / Noordelijk Film Festival 2021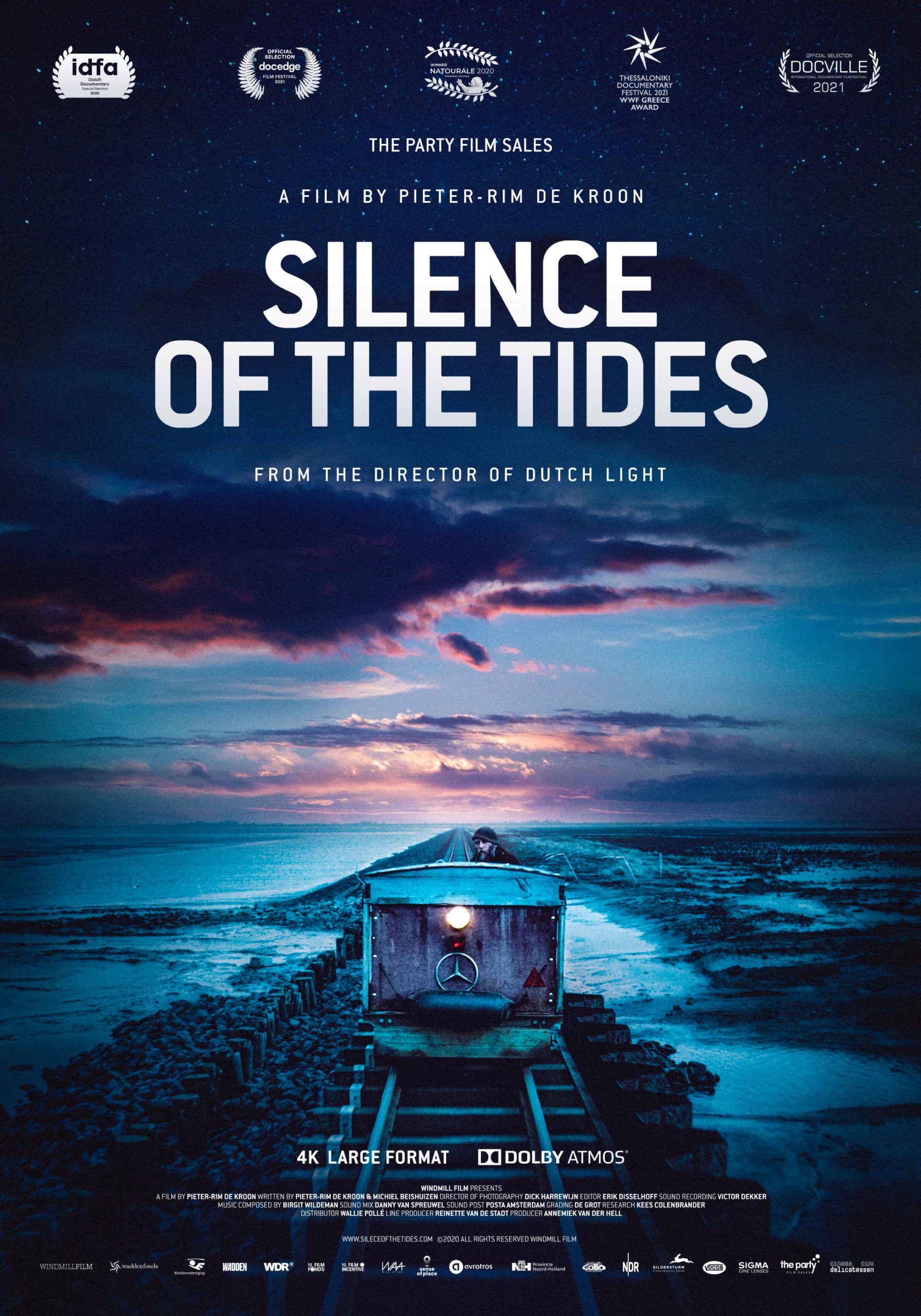 Festivals
Guangzhou Int Documentary Film Festival 6-9 dec
Rotterdam Wildlife FilmFestival 26-30 okt
Nominated for Best Film en People&Nature
Bergen Noorwegen Bergen Int Film Festival 20-28 okt
Caïro El Gouna 14-23 okt
El Gouna Egypte El Gouna Int Film Festival 14-22 okt
Guadalajara Mexico Guadalajara Int Film Festival 1-9 okt
Warschau Milenium Docs and Against Gravity 3 sept-3 okt
Seoul Korea Int. Intangible Heritage Film Festival 10-12 sept
Tel Aviv Doc Aviv 1-7 juli
Thessaloniki IFF 24 june – 4 juli
Winnaar WWF Greece Award
Leuven DOCVILLE 9-19 june
Official Selection DocVille 2021
Nieuw Zeeland DocEdge 3 june-11 juli
Nominated for
Best International Feature,
Best International Director.
Tel Aviv Doc Aviv 1-7 jule
München DOK München 5-16 may
Kopenhagen CPH:DOX 21 april-2 may
Oslo Dockumentarkino 1-7 march
Tallinn DocPoint Talinn 2-7 feb